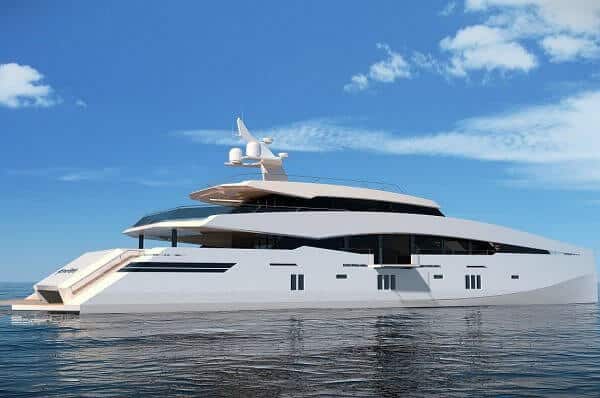 ONE FIFTY by Sunreef Yachts is a concept motor catamaran that, if built today, would be the largest catamaran in the world.
Sunreef Yachts was one of the first catamaran manufacturers to embrace the superyacht phenomenon that has overtaken and continues to influence the catamaran market. Building on its experience and success with the innovative 2013 90 Sunreef Power and 2014 115 Sunreef Power projects, its latest design is a concept catamaran with an undeniably sporty streamlined style, the 150 Sunreef Power.
The ONE FIFTY is a concept catamaran that is conspicuously minimalistic, yet opulent. Its sleek hulls and streamlined deckhouse create a futuristic aspect. In fact, the full-beam deckhouse being nearly invisible is what creates the avant garde and aerodynamic appearance. The deckhouse spans the entire beam which not only makes for a head-turning design, but also creates another level of living, entertaining, and working space. Having an additional level of spaces adds tremendous flexibility to how the boat's interior is utilized and enjoyed.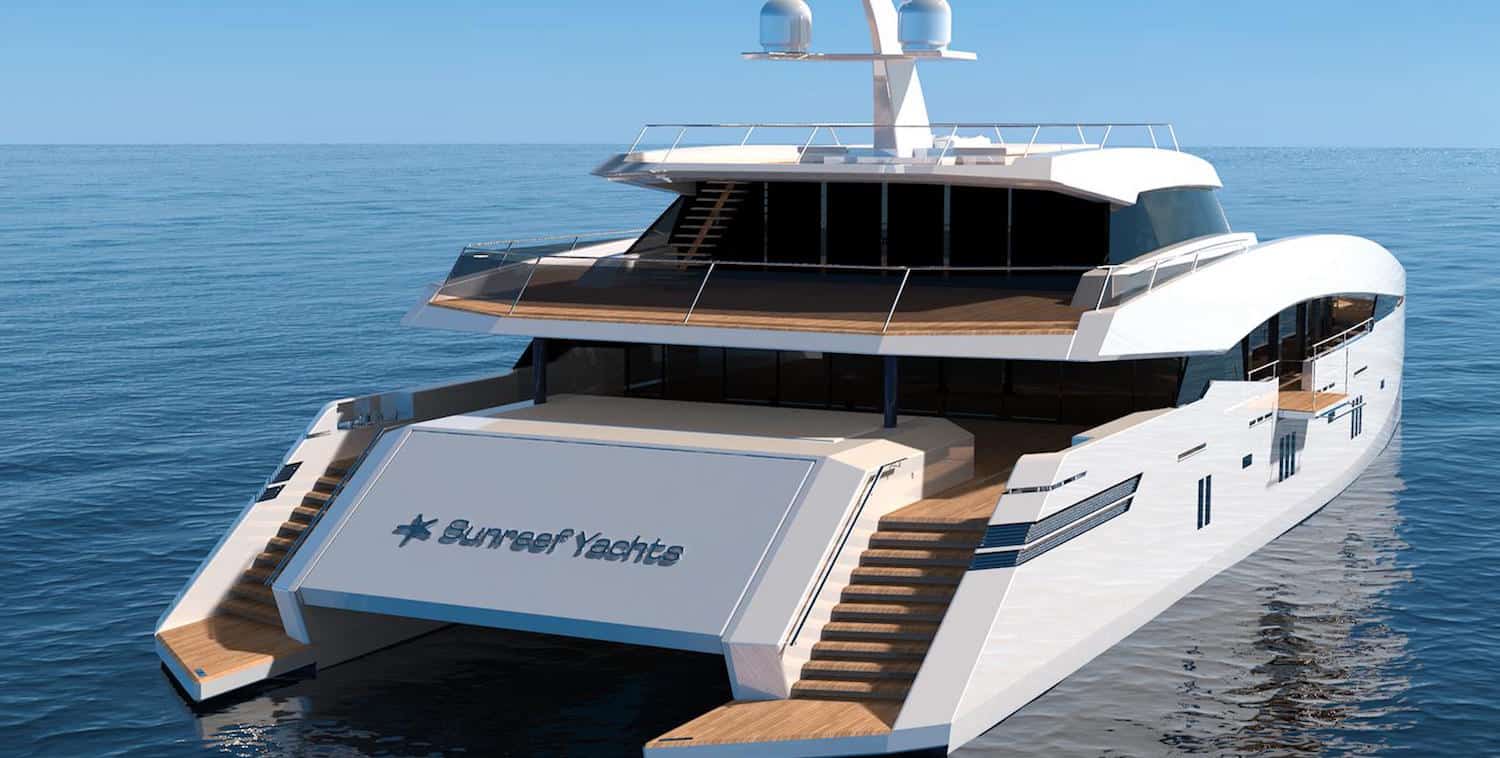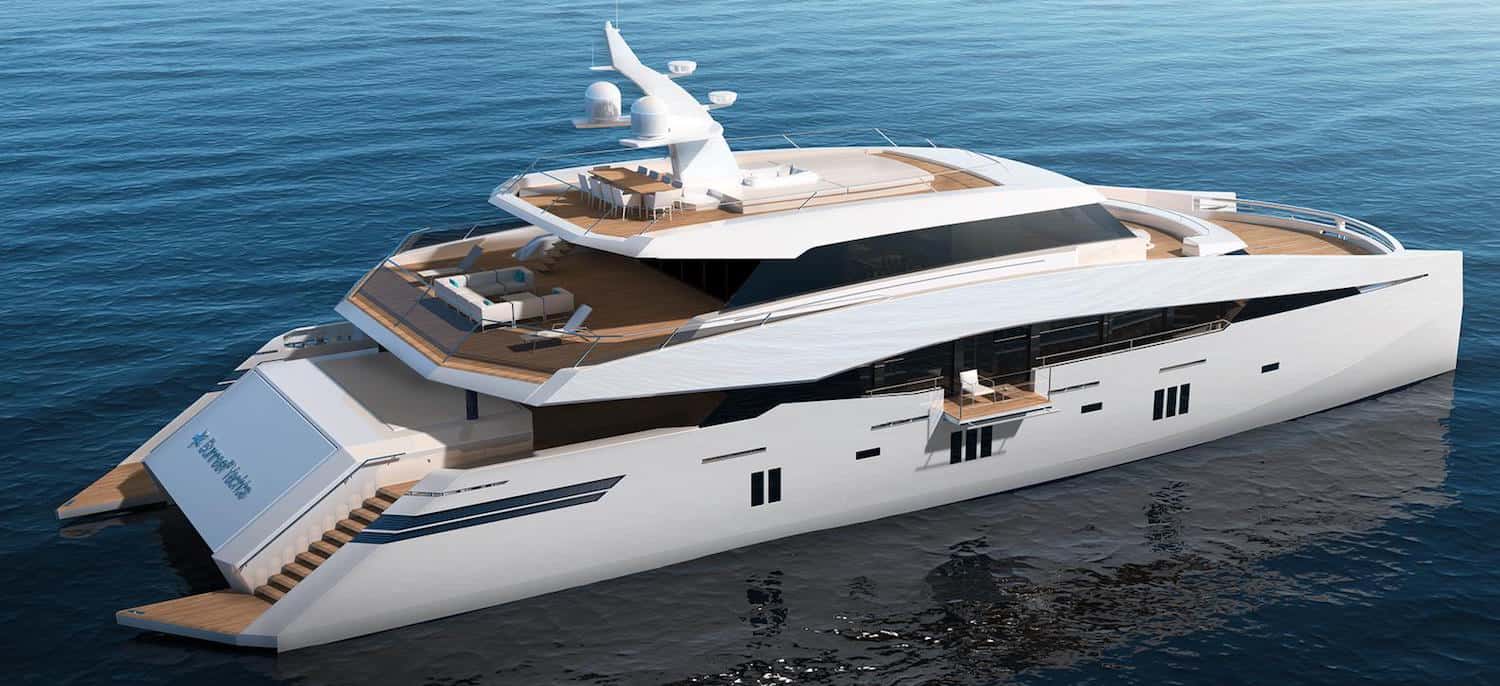 This contemporary concept catamaran provides almost 11,000 square feet of living space over 4 separate levels (flybridge, upper deck, main deck, and the hulls). See below.
The concept catamaran design includes plenty of alfresco living a magnificent front terrace, an enormous flybridge with a Jacuzzi and mattresses or cockpit.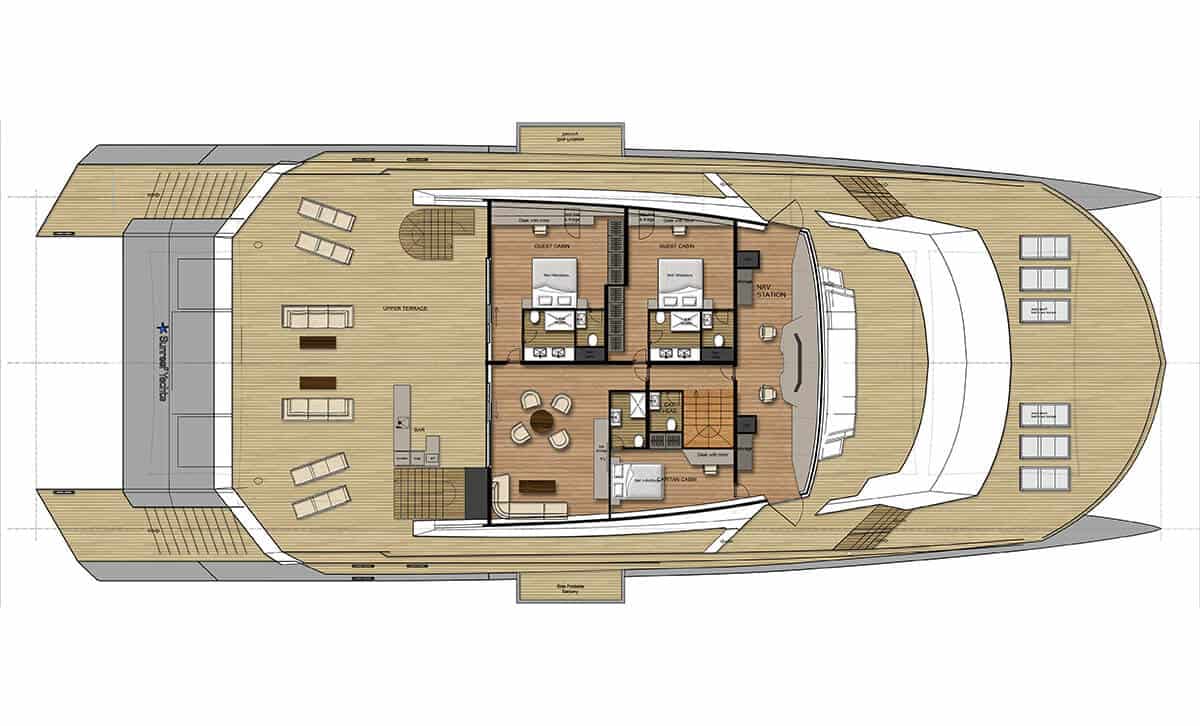 The upper deck is the perfect place for a master suite with a breathtaking 360 window view giving plenty of natural light and direct access to the upper cockpit. The layout of the hulls can also be fitted to personal preferences and equipped with a galley down with separate entrance for the crew, VIP cabins, crew quarters, storage, and gym area, or any other specific needs of a lucky owner.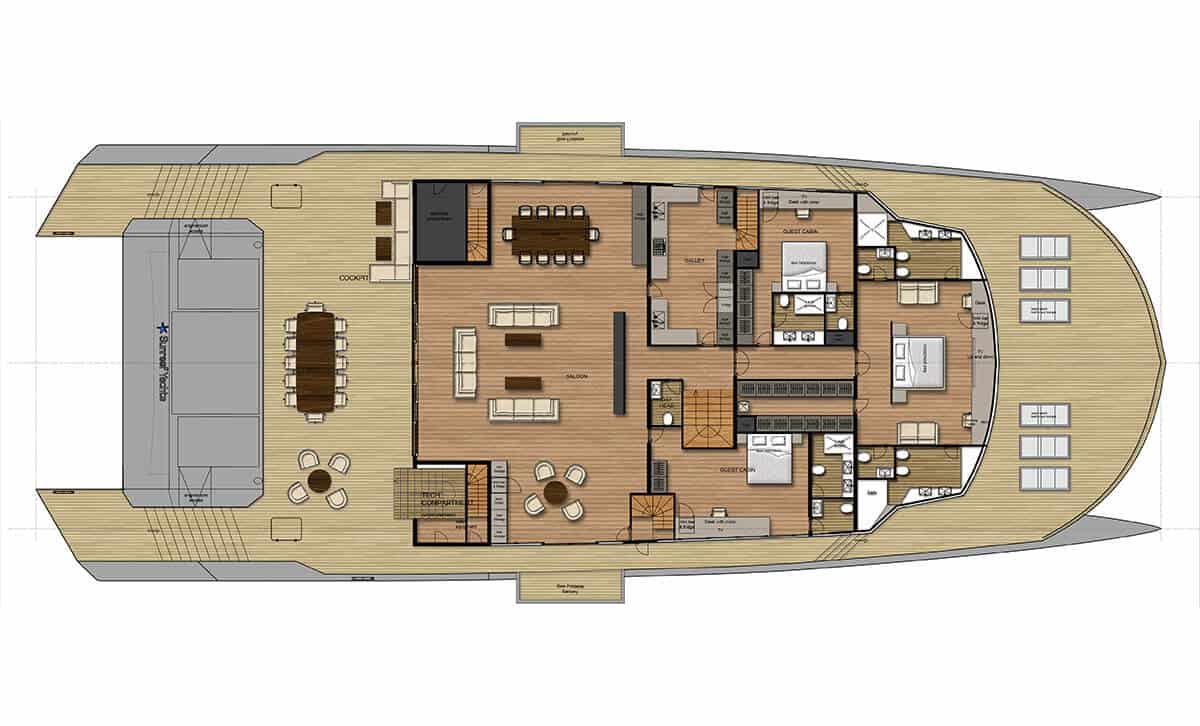 The main deck is a spectacular living space with room to place all cabins for up to 12 guests liberally illuminated by overhead glass. The main deck feature an open saloon with dining and lounging area with sliding doors to the spacious cockpit. Additional retractable terraces on both sides add more outdoor entertaining and lounging space, especially useful for cruising in warmer climates.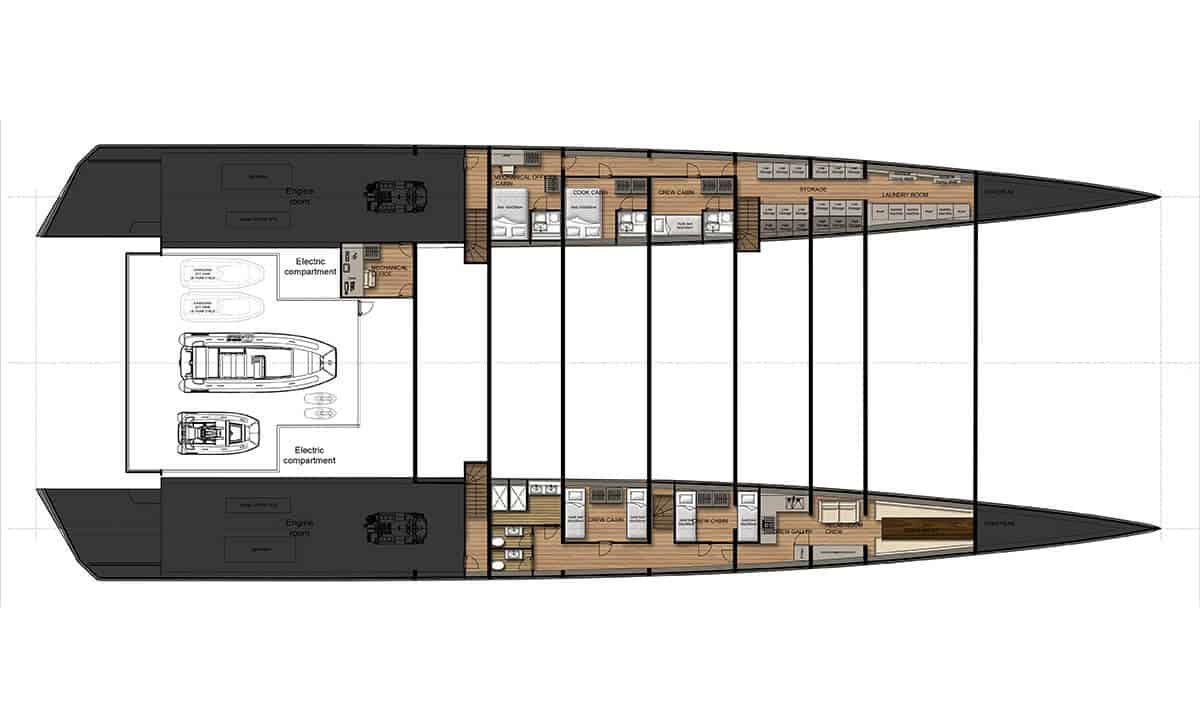 Below decks in the hulls offer crew quarters for 9, storage rooms, and the galley. The garage located at the aft stores water toys and the tender.
Who Should Build the 150 Sunreef Power?
Yacht owners looking for the natural stability of a catamaran combined with extensive living space yielded by a wide beam, low draft, and low fuel consumption will be pleased to embark on the 2-year build process for the ONE FIFTY.
Added advantages are the pride of owning the largest catamaran with a "power superyacht" look as well as offering guests exquisite, luxurious comfort inside and out.
150 Sunreef Revolutionary Ideas
Forward cockpit
Full-beam deckhouse
No hatches, light comes through a glass top
Topside covered by solar panels
Uncut teak
No guard rails
Exterior design based on two sealed elements – shell and core
Separate entrances for guests and crew
150 Sunreef Specification
LOA: 150.56 ft/ 45.89 m
BOA: 56.27 ft/ 17.15 m
DRAFT: 6.99 ft/ 2.13 m
DISPLACEMENT: 165 T
MAST HEIGHT: 179.4 ft/ 54.38 m
MAIN SAIL : 7535 ft2/ 700m2
GENOA : 4305 ft2/ 400m2
SOLENT: 2152 ft2/ 200m2
Guests: 12
Crew: 9
DESIGN: Michał Górzyński, Sunreef Design Team
We Consult On New Construction
Who will be the first to build this impressive power cat?
Are you interested in a custom construction sail or power catamaran?
Work with us to ensure your investment provides the results you want and need.
Our unique experiences as catamaran manufacturers, livaboards, and brokers empowers us to help you choose wisely.
* Renderings courtesy Sunreef Yachts