Cake de Ron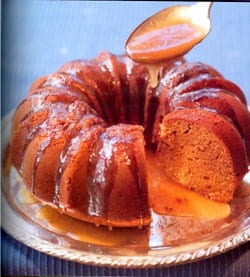 I often use recipes for Cuban food from The Three Guys. Their food is authentic Cuban and Spanish and they are a lot of fun. Check them out on the Food Network.
This cake is rich and moist and the rum and banana sauce gives it a complex and interesting flavor.
Simple, yet elegant.
Read about our sailing experience in Cuba and some interesting facts about Cuba. Also, in 2017, we were invited to join a sailing rally from Key West to Cuba, it was amazing to get to visit this vibrant and socially and politically complex island nation again.
Ingredients
3 cups flour
2 teaspoons baking powder
1/2 teaspoon baking soda
Pinch of salt
1 1/2 cups butter, softened
1 1/2 cups granulated sugar
2 teaspoons pure vanilla extract
3 eggs plus 1 egg yolk
2 tablespoons grated lemon peel
1/2 cup dark rum
1/4 cup banana liqueur
1 cup heavy (whipping) cream
Rum Syrup
5 ounces butter
1/4 cup dark rum
1/4 cup banana liqueur
3/4 cup white sugar
1/4 cup powdered sugar for dusting (more or less)
Directions
Preheat oven to 350º F.
Sift flour, baking powder, baking soda, and salt and set aside.
With an electric mixer, cream together the butter and sugar. Add vanilla and eggs and beat until blended. Beat in the lemon peel and then add the rum and banana liqueur. Gradually add the flour, alternating with the cream. Blend mixture until just combined.
Pour batter into a well-greased and floured Bundt (circular ring) pan and bake approximately one hour. A skewer inserted in the cake should come out clean. We often use a mini-Bundt muffin pan, which produces eight mini rum cakes (see picture above).
To Make Syrup
Melt the butter in a two-quart sauce pan. Add 1/4 cup rum, 1/4 cup banana liqueur, and sugar. Slowly bring to a rolling boil and cook until it reduces somewhat. Do not overcook. Let cool.
Remove the cake from the oven and place it on a cooling rack. Use a skewer and poke holes all over the cake. Spoon the syrup evenly over the cake. Let stand for 30 minutes, so that the syrup soaks in.
Finally, carefully turn the cake out onto a serving plate. Dust with powdered sugar.