We Don't Just Teach You Sailing Techniques; We Prepare You For The Sailing Lifestyle!
Stephen & Estelle: ASA Live-Aboard Instructors
Catamaran Guru has been involved in sail training for the American Sailing Association as sailing school instructors since 1996. We taught hundreds of people (mainly couples) how to sail and how to approach the cruising lifestyle enthusiastically but safely. Stephen is also an instructor examiner and is the recipient of the prestigious "Outstanding Instructor" award for the ASA. We have recently added the International Certificate of Competency (ICC) from the Royal Yachting Association (RYA) to our resume and have an endorsement from NauticEd, one of the most advanced online sailing educators.
Learning & ASA Courses
The ASA sail training courses provide a good grounding for all new sailors and the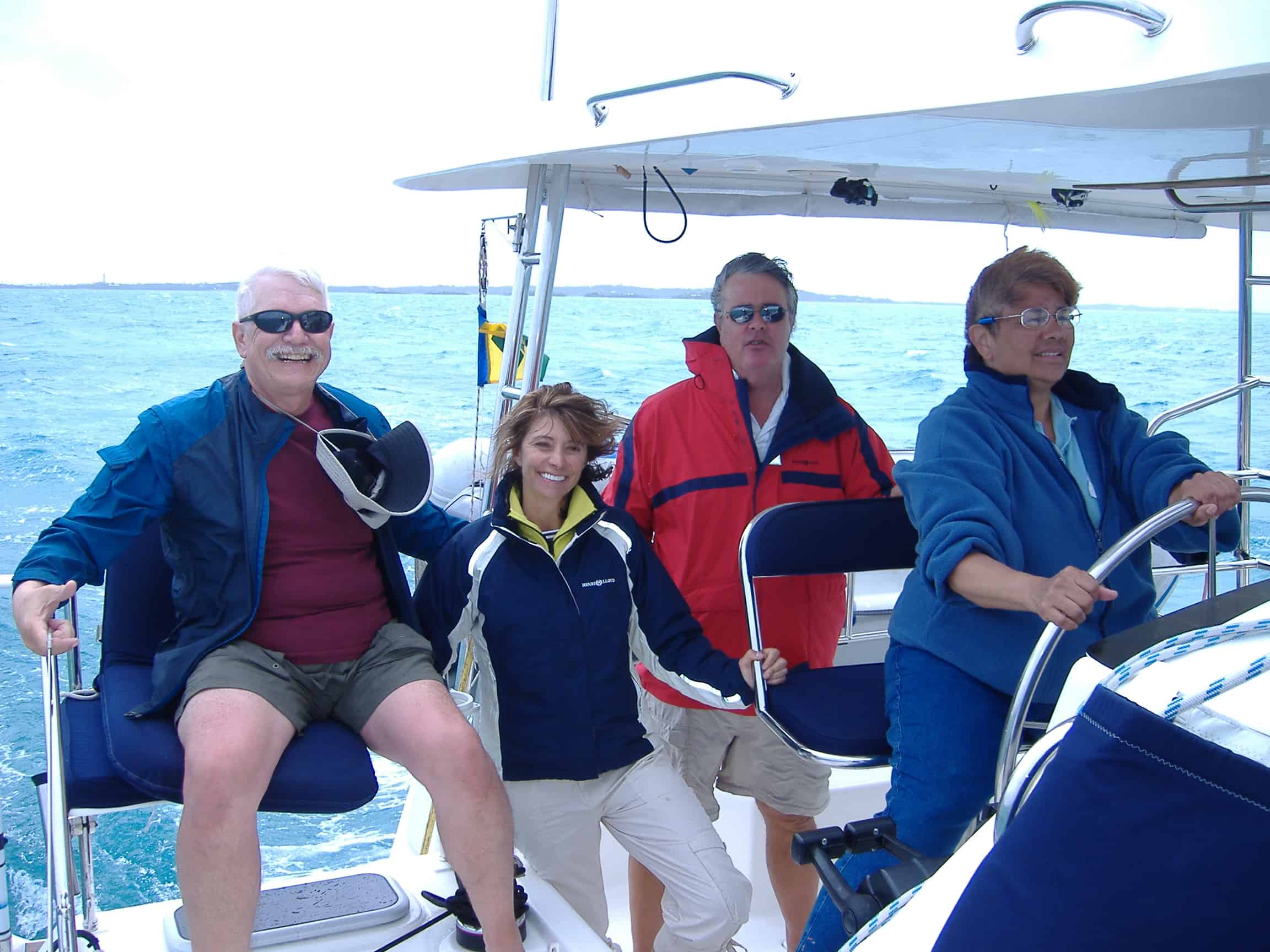 weeklong live-aboard courses are invaluable for anyone who plans to own their own boat. We combine our hands-on practical training methods with the most up-to-date theory courses, all while living aboard for a week, enjoying a stress free cruising lifestyle. During a weeklong live-aboard course, students will learn how to sail, anchor, trim sails and navigate, but more importantly, you will learn how to safely get from point A to point B…and then, like all good sailors, enjoy watching the sunset in a gorgeous anchorage with your favorite beverage in hand.
Alert! Until further notice, we will not teach live-aboard sailing courses ourselves. We are currently conducting onboard "Boat Buying: How to choose the right boat" seminars, which is taking up all our time for the moment. Contact us for sailing school recommendations.
Our Former Students Excelling As Sailors And Cruisers
We are very proud of our former seaschool students. Most of them have embraced yachting, sailing and cruising in some way or another. Many of our graduates have successfully moved on to owning their own boats. Some are long-term cruisers or charter boat owners and some have even done successful circumnavigations. Others have done long-term sabbaticals and several graduates have even moved on to successful careers in the marine industry as yacht brokers, charter yacht operators and charter management.
Catamaran Guru Approved Sailing School Instructors
The demand for sailing schools is overwhelming and we are simply not able to meet the demand ourselves. We have therefor teamed up with some of the best training facilities in the USA, Bahamas and Caribbean to provide top-notch training.
Andy & Lisa Batchelor From Kinetic Sailing: Exceptional Sailing School Instructors For Couples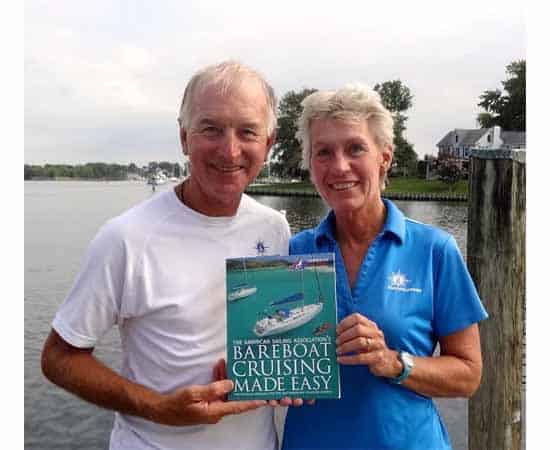 We have known Andy and Lisa Batchelor for a while and have the highest regard for their skills as experienced sailors and sailing instructors. Andy Batchelor, a retired wing commander from the Royal Air Force has received the "Outstanding Instructors" award five times.
He is a USCG captain and ASA Instructor Evaluator. His lovely wife, Lisa Batchelor Frailey has had a successful career in the US Navy as a navigator, meteorologist and oceanographer. She too, is a USCG captain and has received the "Outstanding Instructors" award four times.
Founders of an award-winning ASA sailing school, they are a formidable team and together they have launched their new company, Kinetic Sailing. We highly recommend them as sailing school instructors. These two are also the authors of the brand new textbook "Bareboat Cruising Made Easy" – ASA course 104 – for the American Sailing Association (ASA).
Mark Thompson from Yachting Education: International Certificate of Competency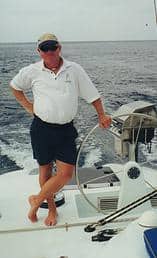 Mark Thompson is the Chief Instructor accredited under NauticEd & RYA programs and can issue the International Certificate of Competency (ICC) certificate. The ICC is an international license ratified under United Nations resolution 40, an attempt to ensure all sailors entering or chartering in foreign waters have a recognized minimum standard of expertise.
Mark has a significant sailing resume including multiple Atlantic Ocean crossings and experience in Caribbean, Mediterranean, Australian and USA waters. Mark's career has centered on charter catamarans including a 5-year captaincy aboard the luxury yacht S/Y Lone Star. At 85′ she was at one point the largest charter catamaran in the Caribbean and after crossing the Atlantic, Mark and his crew, hosted families on more than 100 weeks of charter.
Mark grew up in Melbourne Australia and joined the maritime industry after a career converting inner city office buildings into trendy apartments. During a year spent traveling the world he discovered a sailing career while driving through Viareggio Italy and thought "you mean I get paid to sail?". His love of sailing is infectious and his calm, patient demeanor has empowered hundreds of students to consider a bareboat charter and many to purchase their own boat. Whatever your level of expertise, the practical time spent with Mark will be enlightening and your certification will open up a world of sailing opportunities.
Request Info for Sailing School
Learn To Sail and Get Qualified for Bareboat Chartering
Catamaran Guru can assist with private training classes with approved instructors for new boat owners depending on availability.
Training on your own boat or a similar boat, depending on availability
Completion of the ASA syllabus
Training to handle various situations and conditions on board
Training on your own boat's systems and how to make basic repairs
American Sailing Association Courses and Education
Catamaran Guru and their partner schools follow internationally accepted standards of the American Sailing Association. We offer basic, intermediate and advanced sailing and navigation courses during one week live aboard cruises. This format provides the most immersive environment possible and provides a more thorough experience than being on the boat only a few hours a day. Sure, we have textbooks and required reading, but that's to prepare you for "hands on" instruction and practice.
ASA Course Books Available Here
The ASA sailing curriculum is composed of eight levels from Basic Sailing to Celestial Navigation and Offshore Passagemaking. Our courses combine two to three levels of the ASA program taught in a one week liveaboard format.