Exceptional Sailing School Instructors: Andy & Lisa Batchelor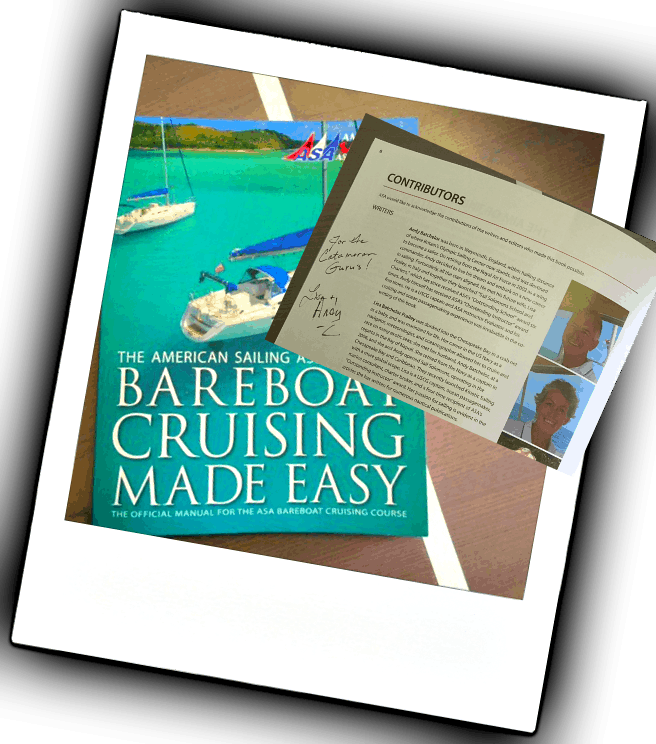 We have known Andy and Lisa Batchelor for a while and have the highest regard for their skills as experienced sailors and sailing instructors. Andy Batchelor, a retired wing commander from the Royal Air Force has received the "Outstanding Instructors" award five times. He is a USCG captain and ASA Instructor Evaluator. His lovely wife, Lisa Batchelor Frailey has had a successful career in the US Navy as a navigator, meteorologist and oceanographer. She too, is a USCG captain and has received the "Outstanding Instructors" award four times.
Founders of an award-winning ASA sailing school, they are a formidable team and together they have launched their new company, Kinetic Sailing. We highly recommend them as sailing school instructors. These two are also the authors of the brand new textbook "Bareboat Cruising Made Easy" – ASA course 104 – for the American Sailing Association (ASA).
They generously donated a copy of the book for our review and they have, in our opinion done a great job. The old version of this textbook was outdated and needed a "facelift". We applaud the ASA and our friends, Andy and Lisa as writers, for delivering an exceptionally well thought-out text book for this course. It is a great teaching tool for instructors and is full of practical and easy to understand advise. They have added their personal insights and experiences which makes this a valuable on-the-water reference guide for students and more experienced sailors alike. Check out our section Sailing School And Learning.
They will present two courses (Take the Stress out of Docking & Night Cruising Desmystified) at the "cruisers university" at the Annapolis Boat Show in the Fall.